The Art of Integrating Eye, Brain and Body.
This principles-based learning method improves the function of eyes, brain and body – and teaches to let go of glasses forever. Simultaneously and naturally.
Peter Grunwald has discovered that certain areas of brain, eyes and the rest of the visual system correspond to specific areas in the human body. He has developed effective techniques to release patterns which underlies myopia, presbyopia, astigmatism and other visual dysfunctions together with postural dysfunctions causing back, neck and shoulder pain, headaches and breathing disorders.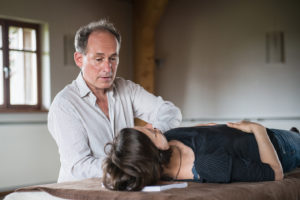 In his unique method, Peter Grunwald applies principles developed by F. M. Alexander to the Grunwald EyeBody Patterns® in conjunction with the Bates Method of Natural Vision Improvement.
People of all ages and walks of life have been using the method successfully. It is especially effective in improving on and preventing myopia (shortsight), presbyopia (middle-age sight), hypermetropia (longsight), cross eyes or squints, astigmatism, glaucoma, cataracts and other visual dysfunctions, together with corresponding body postures and brain functions.
Peter Grunwald's published book Eyebody – The Art of Integrating Eye, Brain and Body – and letting go of glasses forever! is a comprehensive, in-depth account on his work to date. It is facinating to read with a wealth of understanding and information.
The Eyebody Pinhole Glasses developed by Peter Grunwald are especially designed as an educational tool to improve eye/brain functions.
The Grunwald Eyebody Method® is introduced in online formats and taught in 6-day retreat workshops by Peter Grunwald and during private lessons by Peter Grunwald himself and associate teachers.
---
Upcoming Workshops
Zu den Eyebody-Seminaren in deutscher Sprache